Calendar / Hah Shannah
Hah Shannah is the Hebrew word for Calender.
The Hah Shannah is a Timeline of the Past, Present and Future events predicted in the TaNaK (Hebrew Scriptures) and Brit Chadashah (Renewed Covenant).
HAH SHANNAH
NOTE: This Symposium is a compilation of known historical events that have occurred and known prophetic events that have not occurred. The events as well as their order are compiled from the works of various End Time Bible scholars and Hebraic teachers. Hence the term symposium! The dates that are still yet "future" are based on the principle of recurrent and parallel fulfilment and are calculated from prophetic scriptural formulations. All unfulfilled events and dates are subject to change should an event remain delayed or unconfirmed.
YHWH SYMPOSIUM
Click on the following link to view and download a copy of the Symposium Chart (XLS) and the Symposium Notes (PDF):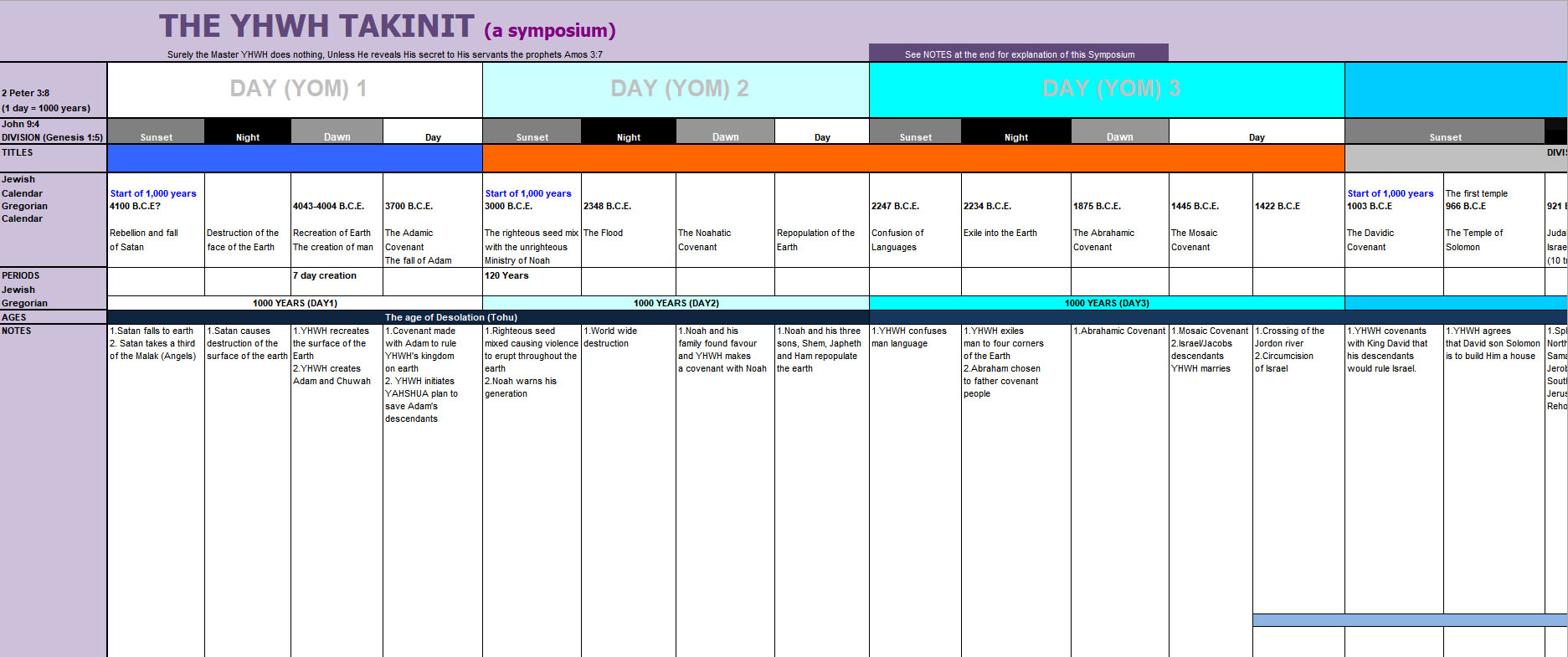 YHWH DECREES
Dath of The Royal House of Elohim
Dath is the Hebrew word for Decree. By the authority of the King of the Kingdom of YHWH vested in the Royal House of Elohim we issue these Kingdom Dath Decrees.
Click on the following links to view and download a PDF copy:
TIME ZONES
LOCAL TIME:
JERUSALEM ISRAEL:
IRAN (Percipolis Yerushalem)
Riyadh Saudia Arabia:
Dubai United Emerites:
Rome Italy:
Paris France:
London England:
Moscow Russia:
Los Angeles USA:
New York USA:
Mexico City Mexico:
Vancouver, BC:
Mumbai India:
Lagos Nigeria:
Addis Ababa Ethiopia:
Johannesburg South Africa:
Beijing China:
Singapore Asia:
Auckland New Zealand:

A NON-PROFIT-NON-DENOMINATION-NON-AFFILIATED CHARITABLE MINISTRY